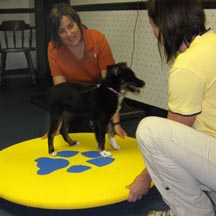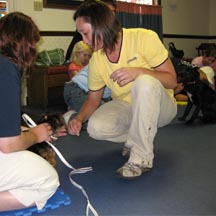 PUPPY PRESCHOOL PROGRAM
Puppy Preschool is a chance for you to learn what it takes to raise and care for your new puppy during
the early stages of development. Your puppy will begin healthy socialization exercises to build confidence.
During this 3 week course, you and your puppy will work together as we introduce your puppy
to new situations and sensations. Puppy preschool is a chance to start your puppy off on the right paw.

Each class includes:


• Q&A: A period for you to ask those questions that arise with you and your puppy at home.

• Object Socialization: We'll help you to introduce objects and sensations that your puppy will begin to discover in their day to day life and help your puppy gain confidence with new situations.

• People Socialization: We will work on different exercises that will help your puppy get accustomed to new people and being handled in different ways

• Topic Discussion: Each week we'll discuss a different topic relating to you and your puppy.

• The Next Step: Here we'll show you the possibilities for your puppy in the future. We'll give you a glimpse of what your puppy can learn with proper obedience training.



What you should know:
• Your puppy should be at least 8-16 weeks of age at the start of the course.
• Before attending we advise that your puppy be settled at home with you for at least 10-14 days before starting with Puppy Preschool.
• Your puppy should be healthy and must have had at least the first round of vaccinations one week prior to the start of class. We do require that you bring or mail in proof of vaccinations (shot record) signed by your licensed veterinarian.
• The 3 week class cost is $60. Classes meet one night per week. You must pre-register your puppy.
NOW ONLY $45!


Registration Form:
Class size is limited! Reserve your spot today!